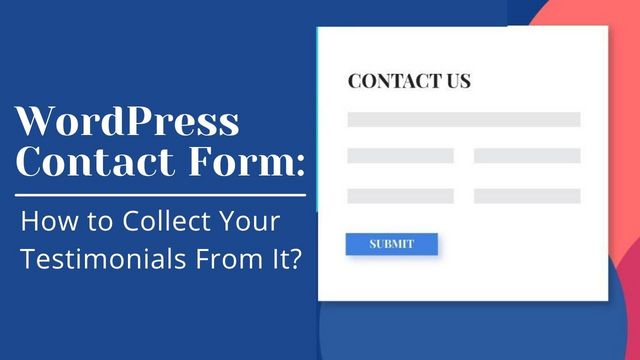 Have you extracted useful testimonies from your WordPress contact form ever before? If not then this post can help you collect the essential testimonies out of your WordPress website form that addresses your online business performance effectively. testimonies are specified customer reviews and ratings about your online services and products. You can embed such testimonies on your website landing pages or home pages for easy views and a fine user experience. These testimonies are statements and proofs that represent the client's satisfaction with your online goods and services. Coming back to WordPress contact forms, you've got the advantage of plugins to create varieties of contact forms for your contact page. WordPress makes it easy for you to design your website in multiple ways. Moreover, you can add various user functions and elements that encourage user interactions and actions on your website. Contact form is also one of those functions and can help you collect honest and informative testimonials about your online brand. You can use these testimonies to attract more clients to your online business. In this article, we've thoroughly discussed the WordPress contact forms and a variety of plugins along with the step-by-step guide to collect testimonials for your online business. However, you need to make sure that you have provided a certain amount of your services earlier to some of the clients. Testimonials are specific client statements and opinions about your online products or services and could be drawn only after particular experiences. You can also reach out to SFWP Experts anytime if you're undergoing any issues with your web design operations and website creation objectives. We're a well-known WordPress Website Design Company in San Francisco and we help different online businesses grow their presence by optimizing their website design for better performance!
What is a WordPress Contact Form?
Every genuine website consists of a separate contact page where the users are supposed to visit and reach out to someone they could talk to. They can talk about a product, service, their issues with the product or services, and their opinion about particular content, your website functionality, etc. WordPress contact form is not very much different from the other websites. However, you get unique options and varieties to choose from. Here are the leading WordPress plugins you can use in this context: - WP Forms - Contact Form 7 - Gravity Forms - BestWebSoft Contact Forms - Formidable Forms - Jetpack Forms - Simple Basic Contact Form - Ninja Kick Sidebar Using these forms your target clients and customers can easily approach your expert team to guide them toward your products and services. You can also call it an inbound marketing technique where you don't need to call out your clients and testimonials to review your services, but they reach out to you themselves. You can also contact SFWP Experts in case you're facing a problem deciding on the ideal contact form for your website visitors to fill out. Our experienced Custom WordPress Web Design Company can help you optimize your website performance in terms of appearance and functionalities and grow your online presence exceptionally!
How to Collect Testimonials Through Your WordPress Contact Form?
Website testimonials are very crucial for a new business to set up its online promotion goals and objectives. Even if you have an old business online, you must transfer these testimonies to your new WordPress website for quicker user recognition. You can have just a single testimony and trigger more new clients and customers to your website. To collect your initial testimonials you can make use of your WordPress contact form and increase your business worth in the following ways:
Read More: WordPress Contact Form: How to Collect Your Testimonials From It?

Read More Articles:
Reference Profile Websites